Trip Costs
Full day (8 hours): $ 800.00 cash $848 credit/debit (for one – three anglers)
Half day (5 hours): $ 575.00 cash $605 credit/debit (for one – three anglers)
Extended day (11 hours): $ 1000.00 cash $1,060 credit/debit (for one – three anglers)
All trips require a 50% deposit.
Available All Year
COME EXPERIENCE THE BOUNTIFUL WARM WATERS OF THE PACIFIC!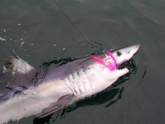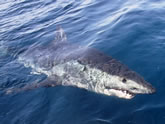 Our Full-Day shark fishing trips are 8 hours. A typical day starts with a quick boat ride (usually less than 1 hour) to the fishing grounds. Once you arrive, the captain will prepare and create a chum slick to attract the sharks. Our targeted species are Mako Sharks (May – November), Blue Sharks (year-around) and Thresher Sharks (April-June).
ALL SHARK TRIPS ARE CATCH AND RELEASE! NO EXCEPTIONS!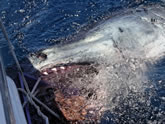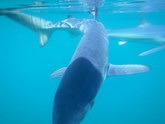 Fly Fishing for Mako Sharks is our specialty! We use 6wt to 16wt fly rods, and custom-tied Trimble shark flies on all of our mako shark fly-fishing trips. For Thresher Sharks, we use heavy conventional gear so that the fish can be released properly.
Conventional gear trips for Mako and Blue Sharks are available upon request.
All trips include: Boat, Licensed Captain, all fly tackle, flies, and  cooler with ice and bottled water.
Not included: Lunch, other beverages, California State Fishing License (can be purchased the day of the trip). Fresh deli sandwiches / sack lunches can be purchased at the landing on the day of the trip. Click HERE to view the Dana Landing Deli menu.
Book NOW above, or call Capt. Dave with questions: (928)380-4504