San Diego bay fishing available all year long
Trips cost $ 425.00 cash or $455.00 debt/credit (for one – three anglers)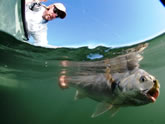 Our bay trips consist of a 5 hour trip on Mission bay and San Diego bay. Typically starting early in the morning and ending around noon. The main species we target are Spotted Bay Bass, Sand Bass, Halibut, Spotfin and Yellow fin Croaker, White Sea Bass, Shortfin Corvina, Bonita, Barracuda, Bonefish, and a handful of others.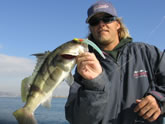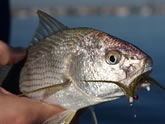 We use 6wt to 8wt fly rods with sinking shooting heads and flies custom tied just for our area. For the light tackle angler we provide spinning tackle from 4# to 15# line, fluorocarbon leader material, and all of the best plastics poured by MC Swimbaits.
All trips include: Boat, Licensed Captain, all fly tackle, flies, and  cooler with ice and bottled water.
Not included: Lunch, other beverages, California State Fishing License (can be purchased the day of the trip). Fresh deli sandwiches / sack lunches can be purchased at the landing on the day of the trip. Click HERE to check out the Dana Landing Deli menu.
Book NOW or for questions, call Capt. Dave: (928) 380-4504