Giant Mako on Fly with Capt. Dave!
April 18, 2011
I first heard of fly fishing for makos on TV a while back, at home in Rexburg, ID. It was something I really wanted to do, but was too young at the time to convince my family to take me shark fishing in So. Cal!
Finally, this past summer I had the opportunity to go after some sharks with Dave Trimble of On the Fly Fishing Charters.
I had searched on the Internet a bunch, deciding who to go through on my trip, and read nothing but positive about Dave. I contacted Dave to set things up, and found him very laid back and easy to get ahold of.
Finally, the day came and we drove straight to Dana Landing to meet up with Dave and headed out sharkin'. On the way out, Dave told me that he had been seeing an unusual amount of large makos recently. The probability of seeing one of these was very low, but it still gets you crazy pumped to hear something like that!
We had been tangling with blues for the last two hours or so of our eight hour trip, and having a blast, when all of the sudden the blues messin' around by the boat took off.
It was then that I saw why – coming straight for the boat was an unbelievably giant, girthy, submarine-like shadow. The shark was really long, but the mass on this animal blew me away. It is so much bigger, better, cooler then you could ever think up in your mind!
I had no idea how big the shark really was. Dave estimated the giant around 12 ft long and 1,000 lbs! I personally didn't even think Dave fished for sharks once they got this big so I had to ask him. All I heard was a hell yeah, grab the 16wt!
So I grabbed the rod and got ready for what would be the coolest experience of my life. The shark teased up quickly and we had the shark hooked within a couple minutes of it showing up.
I had only had the fish on for a few seconds when the giant became airborne. It was the most incredible thing I have seen, or ever will see. The shark was easily 15 ft out of the water and every time it crashed back into the water it sounded like a building falling into water.
After the initial aerial display, we chased the shark around for 45 minutes or so. The shark stayed on the surface almost the entire fight so I was able to look at the shark very closely, over and over again.
Eventually we were able to get close enough to the shark to leader and bust it off, letting it go back into the depths no worse for wear.
It was a life altering experience, seriously. Seeing something like that has made it very hard for me to ever think about anything else! If anyone out there is toying with the idea of going out with Dave, DO IT! Dave is an awesome, laid back dude who really goes out of his way to make sure you have a good time. Even when we didn't have a shark on or around the boat, it was fun swappin' fish stories and just being out there. I know I will be back every year!
Everet Evans
---
January 25, 2011
Last July '2010' my son Timmy, took me Shark Fishing on the Fly, for my 60th Birthday, with Capt. Dave …. And it was " Fan'freakin'tastic" !!!
We went out on a Tuesday morning for a full day …. The seas where mild w/a subtle breeze …. We angled out north x n.w., to a point that looked about as far up as Torrey Pines and 8-12 miles off shore.
We stopped and watched Capt. Dave prepare the chum …. As we drifted above a 1200 ft deep canyon below, the chum line started spreading it's slick and Capt. Dave started telling us tales of Shark Fishing Adventures.
Capt. Dave is a very interesting young entrepreneur, a family man, as well as a very safety oriented and really friendly guy …. I'd go fishing with Capt. Dave again, anytime.
Then, practically on schedule (after aprox 2.5 hrs of drifting) …. The 1st Mako shows up !!! Capt. Dave jumped up as soon as he noticed the baitfish following the chum, ball up in an instant, right next to the boat.
It was a 5 ft Mako, curiously cruising the chum line next to the boat like a stealth torpedo, in no hurry.
Timmy tossed out the fly, the Mako turned, hit the line and exploded …. He probably ripped off 200 yds of line …. And then he was gone, vamoos, hook, line w no sinker, since it was on a fly. But that sure got our adrenaline going !!!
After another couple of hours drifting …. The baitfish balled up again and we had some Blue Sharks …. A pesky little 4 ft'r and his Daddy, an 8-9 ft'r.
Eventually we hooked up the Big Blue on a recommended conventional R&R combo, because Capt. Dave said that the Blues tend to roll a lot, and this would give us a better chance to land him by the boat for photo ops.
So this one was my bad boy …. He did take off when I hooked him and he did roll and Timmy got some great video footage with his water proof camera, as he held it under water with his hand as the Blue was cursing the boat !!!
And then again like clockwork …. A few hrs later the last Mako came in, another 5 ft stealth fighter. Timmy paid for the trip so this one was his. Now this Mako hit ….
Jumped clear out of the water about 35 ft in front of the boat, again at about 50 ft and again around 60 ft …. 3 times clearing the water completely ….
Before I could get my camera out. Air Jaws then ripped off another 150 yds of line and then the reeling began. Tim eventually got him to the boat and we got some great shots of his grizzly teeth out of the water.
Truly a Great Day !!! I can't wait to return the treat to Tim …. With Capt. Dave of course.
We forgot one thing tho …. BEER …. There's ample time to drink Beer, when drifting on a chum slick !!!
Cheers & Tight Lines to All
From: magnum ti
---
January 20, 2011
I had never been offshore fishing in the Pacific up until August 2009, and have family(inlaws) in San Diego. I was born and raised in Texas and had done a lot of offshore and bay saltwater fishing in the Gulf of Mexico growing up.
I found Dave through his website, and booked a 12 hour offshore trip strictly targeting Marlin. In Texas, we have to go so far to catch them offshore, and I had never caught one. We went on the Blackjack boat which was great.
Dave did his homework and had scouts go out and look for them from the air with planes (mainly looking for Swordfish for restaurants but also eying the waters for Marlin. This was the week before I came out. He even had a deckhand friend of his bring along some homemade lures he had made.
We had 5 Marlin strikes that day, all within 4-5 hours. Right before we came in around 3:30 pm on Aug. 23rd, 2009, I caught a 115 pound striped Marlin on a small hook with a 25 pound leader and a small sardine hook while tuna fishing. It was just what I was targeting and Dave delivered.,/p>
The fish was only 17 miles offshore, and several guides that I had called/interviewed told me this was going to be a hard feat to accomplish in late August this close in. Dave did it, and pulled it off on my first attempt. The fight was awesome, and Mark and Dave coached me on reeling it in. It took around 45 minutes to an hour total.
I was on cloud 9 the day before my 38th birthday. Since then, I have fished with him almost every time I come out. The last trip we took was just a half day Shark trip, and I caught a 40 pound Mako on a fly rod. It was awesome. I had never done this like this.
I had caught shark the conventional way in the Gulf of Mexico offshore, but never this way. This is truly the sporty way to do things.
Dave is always such a positive and lively person, and fun to be around. I have met a lot of professional fishing guides in my lifetime thus far, and usually the successful ones carry an attitude with them, but Dave is very humble, and just himself at all times.
I would recommend him to anyone that wants a time of a lifetime fishing with a true pro in every sense of the word. He is the best!!
Hunt H. Hellums
Broker/President
HHH Land Co. LLC
---
January 19, 2011
We had a wonderful time with Captain Dave going after feisty makos. Also saw hundreds of dolphin, blue whales and two BIG hammerheads.
Dave is an excellent host and knows the ropes. I highly recommend this trip and will be back myself as soon as possible.
John E. Murphy, Pharm.D.
Professor of Pharmacy Practice and Science and Associate Dean
The University of Arizona College of Pharmacy
---
January 12, 2010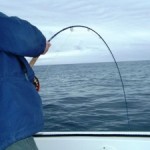 I found Captain Trimble a few years ago after watching a TV show on fly fishing for sharks in Southern California in winter. I have been going out with him every December since then. Each trip I have taken has been outstanding. I always go in late December because my family leaves the cold of the east coast to head to San Diego for the holidays. Every trip we have caught lots of nice size Blue Sharks.
Sharky Dave, as my buddy and I call him, just knows where the sharks are and even when they should be hungry. This last trip he said that the winds should shift direction around 11:30AM and then the fishing should come on and sure enough we had our first hookup at 11:35 and the sharks stayed with us all afternoon.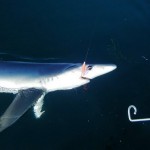 Each trip I've taken with Sharky Dave has resulted in 6 to 8 sharks per person per day. The sharks range in size from 30Lbs to well over 100Lbs. This last trip we hooked and landed what could have been a new record at over 160Lbs, but the shark broke the leader as we had him at the boat. Having fished for over 30 years all over the world, the thing that impresses me most about Sharky Dave is his dedication to conservation and fisheries management. He is all catch and release and he works hard to make sure these wonderful fish aren't hurt when releasing them.
For anyone looking for a great fly fishing, or just plain great fishing experience, I highly recommend Capitan Dave Trimble. I can't wait to come back one summer and try my hand at the big summer time Makos. See you soon.
Michael Hodgson
---
April 6, 2009
My first trip saltwater fishing with Capt. Dave Trimble was May of 2006. His experience and knowledge was obvious from the first day I set foot on the boat.
The first day we went shark fishing and succesfully released over 13 sharks! The second day we decided to fish inshore/bay and landed over six species of fish. Captain Trimble's knowledge accompanied by the quality gear, made my trip one I will never forget.
In fact, I keep coming back to San Diego to fish with Captain Trimble every year (over 25 days). In that time we have caught yellowfin tuna, albacore, dorado (mahi-mahi), striped marlin, rock fish, lingcod, mako sharks, blue sharks, skipjack, bonito, and my favorite – the tail-whipping thresher shark.
Thanks Dave – see ya soon!
Michael Lapsley
Owner, Four Seasons Guides and Outfitters, Flagstaff, AZ