Captain Dave Trimble
The owner / operator of On The Fly Fishing Charters. Dave has worked from Alaska to Panama in both fresh and saltwater. He has been a full time charter captain for the last 15 years. He started fishing makos on fly in 2002 working for his good friend Conway Bowman at Bowman Bluewater before starting On The Fly. Dave has 13 years experience as a captain in San Diego waters. Dave has guided anglers to more mako sharks on the fly than anyone else guiding Southern California! A day on the ocean with Capt. Dave will prove to be a good time.
---
Captain Everet Evans
Born and raised in Idaho. Everet has the same passion for teaching as he does fishing and truly enjoys guiding clients of all experience levels…especially beginners! A day on the water with him is certain to be a memorable one.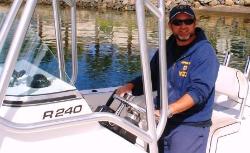 Captain "Grander" Jack Vincent
California native who, for forty years, has fished the waters of the West Coast from Fort Bragg, CA to Ixtapa, Mexico. Since 1990, Capt Jack has fished the Southern California Bight for everything from calico bass along the coast to tuna, marlin, dorado and shark offshore. His specialty is shark fishing for Makos and Threshers. Whether your target is a small Mako on light tackle, a hard fighting Thresher or a  Trophy Mako, Capt Jack has the skill, knowledge and experience to make your trip a successful one.
---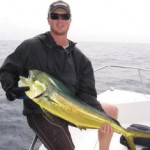 Captain Jeff Stock
Grew up fishing and surfing the ocean and beaches in and around San Diego. Jeff has fished for every sport fish in the Pacific from mako sharks to yellowtail, bonito and bonefish in the bays, corbina and perch in the surf. Jeff ran the SD Flyshop for years, his local knowledge is astounding.
---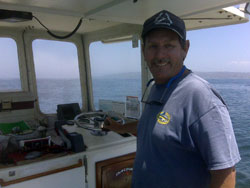 Captain Lou Fodor ("Old School Lou")
Growing up on the beach 20 miles north of Mission Bay, there wasn't any doubt the ocean was going to be a lifelong passion. Building his first boat at age 24, he started commercial fishing. Receiving his captains license in 2004 has given "Old School" the opportunity to give back 30 plus years of of local fishing knowledge. "Sharks are my specialty / makos my passion". Loves to teach the novice young and old. Spend a day with "Old School" and you'll feel the passion!